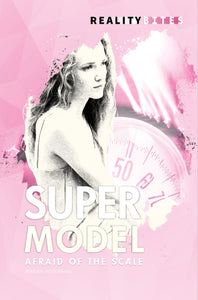 ReadZoneBooks
SUPERMODEL
Regular price
£12.99
£0.00
Tax included.
Kiia's knees buckle. She sinks to the floor.
It's like a film playing in slow motion.
Without a word, Kiia just falls over.
She's in a yellow dress covered in feathers.
Only a few people see it happen.
The others are busy running the show.
Supermodel is the story about Kiia, a tall, skinny, 14-year old girl. Not long after Kiia is discovered as a model, she's recognised on the street. Boys pay her attention, the tabloids write about her, and she earns loads of money. But then Kiia's body changes. She is more full and round. That's not allowed for a model. Kiia doesn't want to lose her glamorous life.
So she starts to starve herself …
Reality Bites is a cutting-edge series revealing the real lives of teenagers. Each book is a thrilling story about everyday teenage struggles. 
---
Share this Product
---
More from this collection