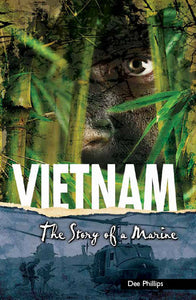 ReadZone Books
Vietnam
Regular price
£7.99
£0.00
Tax included.
I look into his eyes. He looks into mine. He is my age. A soldier just like me. The noises of the jungle seem to fade. No more than a second passes, but time stands still. I see Mom's face. I remember the smell of Donna's hair. I think of my last words to my brother. I wanted to come here to fight, but he did not. I called him a coward, but tonight it's me that's afraid. The young soldier screams at me. I don't understand what he's saying. I only know one thing. Tonight, one of us will die in this hellish place….

In 1965, American troops were sent to fight a war in Vietnam. Many Americans, however, did not agree with the war. In Vietnam, one young US soldier faces the horror of this conflict.
Yesterday's Voices gives older readers a manageable yet highly sophisticated, thought- provoking historical fiction series! Written as a first-person narrative, these page-turning reads capture real-life events in no more than 500 words. Plus each book includes a spread that gives the reader the factual background to the historical theme or event explored in the story.
See all the books in the Yesterday's Voices series
| | |
| --- | --- |
| Series | Yesterday's Voices |
| Age | 14+ |
| ISBN | 9781783220069 |
| Format | Paperback |
| Author | Dee Phillips |
---
Share this Product
---
More from this collection