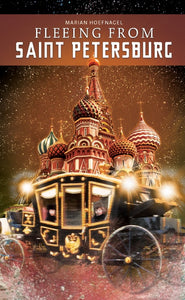 ReadZone Books
Fleeing from Saint Petersburg
Regular price
£11.99
£0.00
Tax included.
'Master Michail?' a soft voice says.
A shadow moves through his room.
Michail sits up straight in his bed.
'Master Michail, it's time to get up,' the maid whispers.
She wakes Michael up every morning.
But never in the middle of the night, like now. 

Fleeing from Saint Petersburg is a story about Michail. He lives with his sisters and his mother Princess Olga in the Romanov's Palace. His father is fighting in the First World War. Suddenly his childhood ends. The family flees to Moscow and later to Paris. His youngest sister Irini is born during their flee to Paris. Irini visits Saint-Petersburg for the first time when she is older. She visits the palace where she never lived. And meets the people her family used to know.
Hardback | 112pp | 11-16yrs hi-lo
---
Share this Product
---
More from this collection