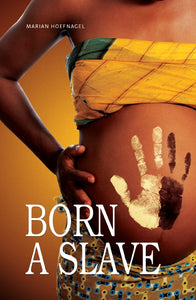 ReadZone Books
Born a Slave
Regular price
£11.99
£0.00
Tax included.
'Nana, I'm so unhappy,' he suddenly says, sobbing.
Nana is startled. She looks around in fear, but luckily no one is in the neighbourhood.
'Oh, my child, she then says. 'It's your age. Every fourteen-year-old boy is unhappy. In a few years you'll feel better. You'll have a wife and a hut of your own.'
'No, nana', Kwasi says. 'I'll never be happy here. I hate it here. I'm a field slave! I have nothing and am allowed nothing.'

Grandmother Shani, daughter Kiesja and her twins Maisa and Kwasi live on a slave plantation. Their life is hard and full of danger. They each have to make their own choices. But since they live in captivity, their choices don't mean much. Still they succeed in living their own lives, even when that life is only lived in their thoughts.
In this book, three generations talk about experiencing slavery as a teenager. Stories of misery, sorrow and pain. But also stories of courage, love and family.

Hardback | 96pp | 11-16yrs hi-lo
ISBN: 978-1-78322-625-2
---
Share this Product
---
More from this collection